Miami is known for its night lifestyle and buzzing activities. It is no secret that this city's exotic lifestyle attracts millions of tourists. Suppose you are looking for groovy spots where you can relax and enjoy good music. Miami is home to many legendary nightclubs that fit your style. Now let us explore the best clubs in Miami. shall we!



Club Space
Club Space has won multiple awards, like Best Dance Club in 2019, and is located in downtown Miami. It is considered one of the best dance clubs with resident DJs Ms. Mada, Danyelino, and Thunderpony.
Its fantastic music makes it the right choice for party animals who want to have a good time. Club Space equally has incredible light effects, which put you in the mood to get down and party.
Unlike a lot of clubs in Miami, this club does not have a strict dress code.
You do not have to overdress. However, it is advisable to dress classy in order not to feel awkward. Club Space is usually open every Saturday night and stays open all night. In most cases, it stays open till about the afternoon on Sundays or Mondays!
Different DJs perform at Club Space. However, on nights where DJs names like Solomun, Loco Dice, Martinez Brothers, Jamie Jones, Nicole Moudaber, and Dubfire are playing, for example, in Miami Music Week, the admission fee goes way up.
If you are looking for a nightclub where you can be in 35+ hours of marathon sets and witness B3B, Club Space is the spot for you.
Address: 34 NE 11th St, Miami, FL 33132
Treehouse
Treehouse is an underground nightclub where you can enjoy deep house music. With its unique decor and lighting system, it gives you the feeling of a house party.
Treehouse in Miami Beach. It is a fabulous nightclub where you can enjoy different kinds of music every weekend.
Different DJs perform each weekend, and the music genre ranges from deep house music to techno or trance music.
Treehouse is open from Wednesday through Sunday. However, it is best to visit during the weekend to get the best experience.
It has a flexible and straightforward dress code. As such, you can dress and casually. The legal age for admission into Treehouse is 21 years old. Treehouse is the perfect club for lovers of deep house and Techno music.
Address: 323 23rd St, Miami Beach, FL 33139
Do Not Sit On The Furniture
Interesting name for a club, huh? Well, Do Not Sit operates by its mantra. This club offers music so amazing that you do not dare sit on the furniture. Located in South Beach, Do Not Sit is an intimate, casual club where you can groove to good music. DJ Behrouz and DJ Will Renuart opened it. Do Not Sit is quite different from other clubs in Miami. Unlike other clubs, it does not focus on exclusivity and high clientele. Instead, it focuses on good music, dancing, and a fantastic atmosphere. It has a creative and exciting atmosphere.
This unique nightclub is open on Wednesdays, Thursdays, Fridays, and Saturdays from 10:00 PM to 5:00 AM. The dress code is flexible. As such, you can turn up in a simple outfit and sneakers. Thus, if you need an intimate atmosphere where you can have fun, Do Not Sit nightclub is the right place.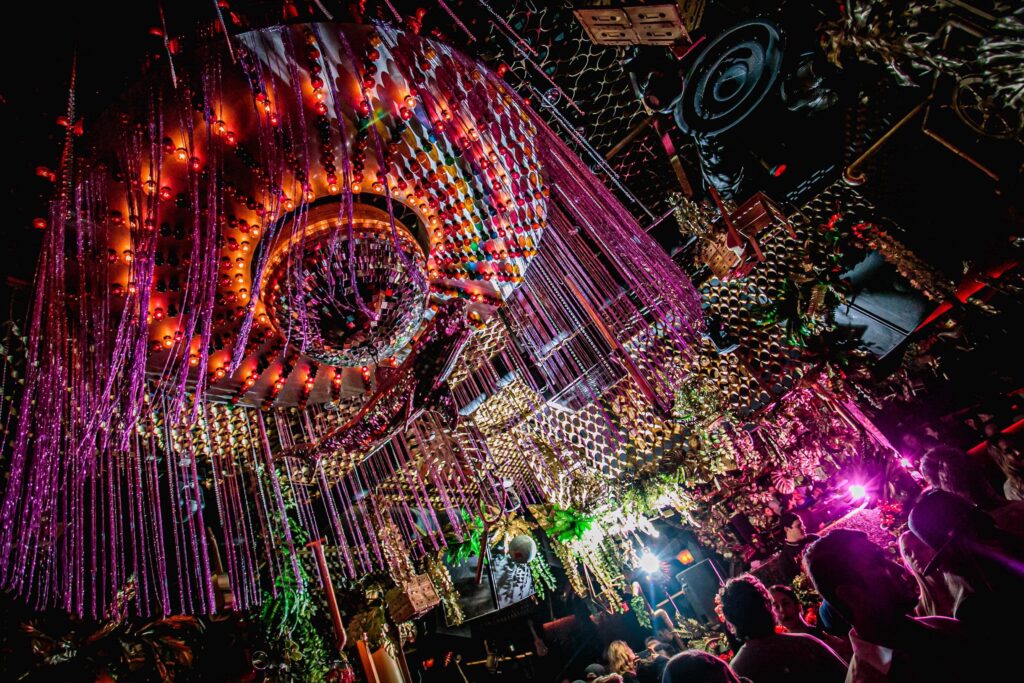 Address: 423 16th St, Miami Beach, FL 33139
ATV Records
Introduced to Miami's nightlife by the former owner of legendary Electric Pickle, ATV Records is a unique records shop by daytime and an underground club by night that featured the most talented DJs. In comparison with other clubs in Miami, ATV Records is relatively small hosts about 150 people. However, its small size does not depict low quality.
ATV Records is not just about drinking and dancing. ATV Records creates room for creativity and expression of self. At this club, anything goes. It has several renowned DJs who play quality music each night. The quality of music, combined with the intimate environment, helps to create a relaxing atmosphere.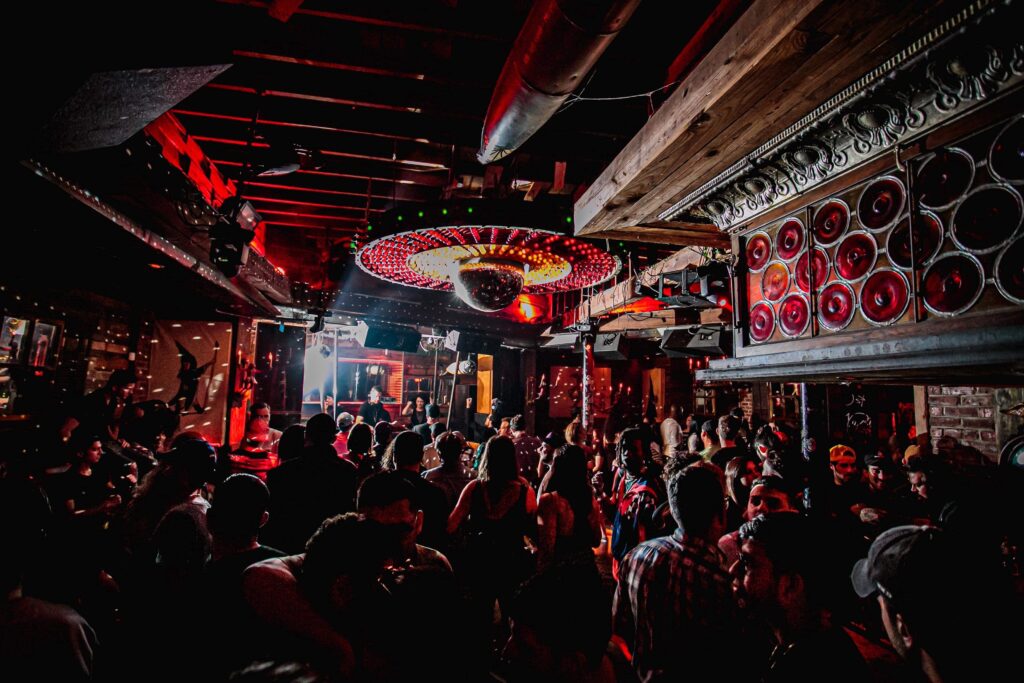 Electric Pickle
Address: 1306 N Miami Ave, Miami, FL 33136
E11EVEN
If you are looking for a club that effectively captures Miami's buzzing nightlife? Look no further! E11EVEN is an upscale nightclub that focuses on giving a great show every night. This club has different functions, depending on the time of the day. During the day, it functions as a day club with a lounge. At night, it completely transforms into a show club with elaborate performances and entertainment.
One beautiful aspect of E11EVEN is its interior decor. It has a rooftop deck where you can catch a break from all the partying. This exotic club features numerous theatrical performances. It also features dancers in elaborate and sophisticated costumes. The atmosphere is thrilling and unique. E11EVEN is open all days of the week. However, it becomes busier and packed during the weekends. The dress code at E11EVEN is quite strict. As such, you would need to dress upscale and sophisticated. You could get turned away for being underdressed. E11EVEN is an exclusive club for people who want a different dimension of clubbing.
Check out best strip clubs in Miami
Address: 29 NE 11th St, Miami, FL 33132
Floyd
If you are a lover of classy, sophisticated clubs, Floyd is the right place for you. Located in Downtown Miami, this club is not one of the regular Miami clubs. Floyd is famous for its classic cocktails. This extraordinary club serves cocktails to its clientele. Its calm, classy environment sets it apart from most clubs in Miami. Floyd Miami equally offers live music performances where people can enjoy quality music. It provides an exciting and new experience for its clientele.
The general waiting time at Floyd is between 10-25 minutes. This club is open from Thursdays through Saturdays. Since Floyd is an upscale club, the dress code is strict. To get admitted into Floyd, you need to dress sophisticated. Sportswear and casual outfits are highly prohibited. Thus, your outfit should be classy and upscale to blend in with the environment
Check out best hip hop clubs in Miami
Address: 34 NE 11th St Suite B, Miami, FL 33132
Story
This nightclub you can find it at 136 Collins Avenue, Miami Beach. Story nightclub offers you the ultimate nightlife experience. With a large and spacious venue, Story boasts of creative decor. Its lighting effects are designed in live concert style. On most nights, it has a circus theme.
Similarly, it has an impressive sound system designed to feed clubbers with fantastic music and sound. Story nightclub also provides its clientele with sophisticated bottle service. At Story, there are numerous exclusive VIP tables for its high clientele.
The type of music played at Story ranges from EDM to the latest hip hop music. It also features hot performances from top DJs. To fit in with the elite crowd at Story, you need to dress to impress. If you are thinking of visiting Story? This club is open on Thursdays, Fridays, and Saturdays from 10:00 PM to 5:00 AM. However, it is usually packed with action during the weekend.
Address: 136 Collins Ave, Miami Beach, FL 33139
LIV
This is one of the hottest and most entertaining clubs in Miami. LIV has over 18,000 square feet of unique architecture. It has a unique and breathtaking design. In the same vein, LIV boasts of a high-profile guest list. Want to sight a few celebrities? This club offers a lot of celebrity sightings. At LIV, you can get an up-close view of all your favorite stars. LIV provides a unique and exclusive experience with its interior decor, guest list, and impressive service.
Its music is just as impressive. The club offers a variety of music and lives performances. Its dance floor is large enough to accommodate its multitude of clientele.
For people who prefer VIP treatment, LIV provides private skyboxes. The club is open on Wednesdays through Sundays, from 11:00 PM to 5:00 AM. However, it is better to get tickets beforehand to reduce cost and waiting time.
Address: 4441 Collins Ave, Miami Beach, FL 33140
Wall
It is one of the most exclusive clubs in Miami Beach. Crafted with the best designs imaginable, Wall is almost impenetrable. It has a hosting capacity of about 300-450. Its small size makes it quite exclusive. As such, only the elite clientele are allowed in. This club offers bottle service and table services as well. All the tables are close to the dance floor. Thus, you do not miss any of the action.
Celebrity sightings are persistent at Wall because the club is a favorite getaway for most celebrities. Wall offers a variety of deep house and electronic music.
Wall is usually open on Tuesdays, Thursdays, Fridays, and Saturdays. The opening time lasts from 10:00 PM to 4:00 AM. However, Fridays and Saturdays offer the best experience. Since Wall is an upscale and exclusive club, the dress code is strict. You need to dress sophisticated to avoid being turned away.
Address: 2201 Collins Ave, Miami Beach, FL 33139
Rockwell
Are you looking to get a real taste of the famous Miami Hip Hop nightlife? Rockwell club offers you the ultimate experience. One of the top exclusive clubs in South Beach, Rockwell is a favorite club for most celebrities. It was launched by Chris Paciello and is a mixture of exclusivity and sophistication. Rockwell offers a variety of contemporary hip-hop music and lives performances. Famous for its Monday night performances, this club offers you the best musical experience in Miami. At Rockwell, you never know what to expect. The music varies from 80s pop music to the most recent hip hop performances. New hip-hop artists also perform at this high-end club.
Rockwell also offers bottle and table services. The tables are close to the dance floor, ensuring that you get every bit of the action.
With a capacity of only 500 people, it is hard to get in as an average Joe. Rockwell caters mainly to the elite. Thus, you would need to dress upscale to fit in and gain admission. If you want a mixture of sophistication and hospitality, Rockwell is the right place for you.
Address: 743 Washington Ave, Miami Beach, FL 33139
Wynwood Factory
One of the top Wynwood clubs, this structure is a combination of event space and a nightclub. Louis Puig owns it. The Wynwood Factory was designed to promote the music and entertainment scene in Wynwood. This club offers guests quality music and sound. It is also quite spacious as it consists of three large rooms and an outdoor terrace. However, only two rooms are open to guests.
At Wynwood Factory, the drinks are cheap. The club has three different bars that serve drinks. It also has bottle service and a separate VIP area. The cover charge is often set at $15.
Wynwood Factory is famous for its top-notch service and quality music. Thus, if you are looking for a club that offers quality service and great music, this is the one for you.
Address: 55 NE 24th St, Miami, FL 33137
Basement
Ian Schrager designed this adult playground. Basement Miami consists of a large ice rink, a bowling alley, and many unique features. The combination of these features gives guests a mind-blowing experience. Unlike some other top clubs in Miami, Basement is not exclusive. Instead, it focuses on inclusivity. Thus, anyone can visit this exciting nightclub. This nightclub offers a whole new world of experiences. It is fitted with a top-notch sound system as well as dramatic lighting. The world-famous expert Patrick Woodroffe designed its lighting system and effects. At this club, you can enjoy outstanding performances from top-notch DJs with quality sound. Basement nightclub is open on Fridays to Sundays, from 5:00 PM to 2:00 AM. However, on Fridays and Saturdays, it is available from 5:00 PM to 5:00 AM.
Basement Miami also has an extensive champagne list. You can get any drink you require at this club. Bottle and table services are equally available.
Address: 2901 Collins Ave, Miami Beach, FL 33140