Miami is known for its night lifestyle and buzzing activities. It is not an exaggeration to say that Miami is home to some of the best clubs in the entire world. Experiencing the heady club culture in Miami is on the bucket list of any adventurous traveler.
This glorious city in America has always opened its doors to many people from all around the world. The allure of Miami's club scene goes beyond the frequent run-ins with the many celebrities who frequent them.
But among the hundreds of nightclubs that populate every corner of the city, finding the best ones can be challenging. But trust us to handpick the best clubs in Miami for you.
Let's hit it.
Heads up! We are trying to be accurate as possible! Please always check the places before heading out.
Club Space
"Redefining Club Culture"
Starting strong at number one is the iconic Club Space. Space is undeniably among Miami's best clubs, with about two decades of hosting epic marathon parties. The award-winning club covers a massive 4-room complex. These include the Ground with a special section, Floyd, The Loft, and the top famous Terrace with resident DJs Ms. Mada, Danyelino, and Thunderpony.
The music here is diverse as the floor levels. House and techno music dominate the Terrace. The Ground and The Loft thump with the latest Hip Hop, EDM, Techno, and EBM. On the other hand, Floyd is where you will hear strains of alternative electronic sounds.
Space is a hit among partygoers due to its top-class services. Club Space is usually open Saturday and stays open till about the afternoon on Sundays or Mondays in some surprise marathon DJ sets, with 24-hour liquor licenses and international DJs that frequent the club. However, on nights when Top DJs like Solomun, Loco Dice, Martinez Brothers, Jamie Jones, Nicole Moudaber, Dubfire are playing, the fee goes way up, especially in Miami Music Week and Art Basel.
Club Space is one in Miami you should experience at least once in a lifetime.
Space Park for a socially distanced party. As if owning one of the best clubs in Miami was not enough, the owners of Space have also ventured into outdoor partying. So be sure to check it out as well.
Club Space Address: 34 NE 11th St, Miami, FL 33132
Space Park Address: 298 NE 61st St, Miami, FL 33137
Treehouse
"Best Dance Floor In A Club"
This psychedelic nightclub easily earns a spot on the best clubs in Miami list. And it is not just because it is near Miami Beach. The layout and the decor here are pretty laid back and are an instant hit.
A two-room layout at Treehouse gives you access to a generous dance floor. You can also enjoy a drink or puff on a hookah in the back with comfortable seats. Not a drink or a smoke person? Take your pick from the list of beverages and food on the menu.
The music that dominates the dance floor at Treehouse is a good mix of House and Techno. Unlike their simplistic decor, the music at Treehouse is international. A couple of Romanian DJs are regular at this club, along with some famous locals.
Address: 323 23rd St, Miami Beach, FL 33139
Do Not Sit On The Furniture
"Best Club For A First Date"
Echoing its rather unusual name, Do Not Sit On The Furniture club in Miami is a definite standout. Run by DJ Behrouz and Will Renuart, two famous local DJs, understand the exclusivity constraints with many of Miami's best clubs. 
You can enjoy the best of underground and electronic music at this nightclub. Do Not Sit On The Furniture's complete experience is free of bells and whistles. The crowd at this unique club is an assortment of locals to tourists.
In addition to the laidback dress code and atmosphere, the drinks at Do Not Sit On The Furniture are cheap. Patrons who frequent this charming club in Miami will agree that the staff here go out of their way to welcome everyone.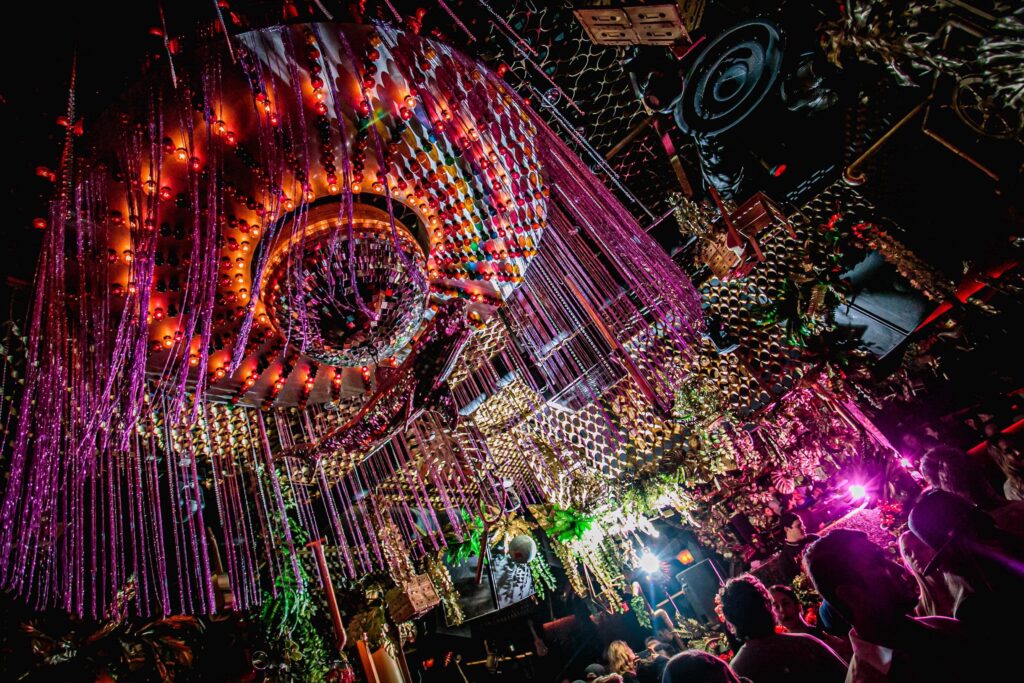 Address: 423 16th St, Miami Beach, FL 33139
E11EVEN
"Best 24/7 Club In Miami"
The booming club culture in Miami may prove to be everything you've seen under the sun. But step into the immersive environment of E11EVEN, and you will change your mind. The award-winning club is as fancy as it is innovative, bringing it comfortably to Miami's best clubs. 
E11EVEN is among the few clubs that are open 24/7. However, this is not the only reason the club draws a never-ending crowd. Here, you can experience five-star hospitality in an expansive area of sophistication. 
You can also grab breakfast with the drinks that flow in abundance at the bar. Additionally, indulge at the private restaurant, dance on the floor, or watch the rooftop sunrise. E11EVEN also has some spectacular topless dancers, which puts it among the best strip clubs in Miami. 
The biggest names in R&B, POP, and HIP-HOP often play at this nightclub. The live shows from top artists and DJs in the above genre are also a massive hit at E11EVEN. However, the playlist here is predominantly EDM.
Address: 29 NE 11th St, Miami, FL 33132
The Dirty Rabbit Wynwood
"Best Club With Latin Music"
This 21+ nightclub in Miami is truly an experience that you will not forget. Bouncing off its name, The Dirty Rabbit Wynwood is one of Miami's best clubs for an adult night out.
Contrary to Miami clubs, Latin music will drown your senses at this club. As you twist to the strains of rumba, you cannot help but be enveloped in the sensuality and ingenuity of The Dirty Rabbit Wynwood.
Events at this club are a hit among its clientele. You will need to purchase a ticket for most events online or offline. Despite the relatively strict rules at this club, having an unforgettable experience here is a given.
Address: 151 NW 24th St #107, Miami, FL 33127
Centro Wynwood
"Top Club Services with Fine Dining"
Centro Wynwood is right up your alley if you love partying with a touch of luxury. This grand club in Miami seamlessly combines top-class club services with fine dining, which is impressive. One of Centro's most popular services is the table service, which delivers the VIP experience with finesse. 
Resident DJs alternate between electronic and house music at Centro Wynwood. Besides, special events are regular here, and so are the live performances from top entertainers.
Typically, enlisting as a guest at this club in Miami is free. But to enjoy the exclusive VIP clubbing, you need to get on the guestlist at Centro Wynwood. On the guestlist, you can get a deep discount or even free entry into the club. However, the listing closes before their usual time for special events, so it is a good idea to keep an eye out.
Address: 299 NW 23rd St, Miami, FL 33127
Floyd
"Best Club For A Calm Night Out In Miami"
If you thought clubs were mayhem and pulsating dens with party people, let Floyd change your mind. This downtown club breathes an air of sophistication and class, making it a total standout. Floyd's atmosphere is surprisingly calm, and the cocktails are classic as they are expensive. This place is more like an upscale lounge you can drop in from Thursday through Saturday.
You might want to make an early start while heading out to Floyd. Whether it is an event or a typical night, you can expect to wait up to 30 minutes to get in. Even the dress code is classic, which fits the best clubs in Miami.
The music at Floyd is a good balance between underground and electronic music. This is not surprising since the guys who own Space Club run the show here.
Address: 34 NE 11th St suite b, Miami, FL 33132
STORY
"Best Hip Hop Club in Miami"
STORY is undeniably one of the best hip hop clubs in Miami. This is one club where people go dancing away the night. Some of the biggest names, including Avicii and Seth Troxler, have spun their tables here. Besides, the expansive Space is a favorite among performance artists, dancers, and live music.
Undoubtedly, STORY's massive dance floor with a hybrid music system holds the spotlight. However, the club's four fully serviced bars are not far behind. The club offers a whole VIP experience to you, and your entourage can afford it. Don't forget that this is where the 2013 champions Miami Heat, raked up a $100k bill.
If you want to party in privacy, take full advantage of the private VIP entrance and the valet service. Not surprisingly, STORY has a strict dress code, meaning no sweatpants unless you are Jay Z. This top-class club in Miami opens from Thursday through Saturday.
Address: 136 Collins Ave, Miami Beach, FL 33139
LIV
"Best Club For Ultra-Exclusive Experience"
We are not leaving LIV out of the best clubs on the Miami list. This club is a part of the iconic Fontainebleau, among the best hotels in Miami.
LIV is not the average club for everyone since it is ultra-exclusive. But with numerous event spaces, multiple bars, and world-class staff, you will be spoilt at this club.
Not surprisingly, the dress code at LIV is upscale, and the food and drinks are world-class. You will often bump into some of the biggest names in the entertainment industry or witness a top act performing at the club. Exclusive banquet areas and private skyboxes are readily available. With fantastic pools all around the hotel, it is no surprise that Fontainebleau also hosts some of the best pool parties in Miami.
The music at LIV is a bit unpredictable since the playlist keeps changing constantly. However, you will hear classical to chart-topping music at one of the best clubs in Miami.
Address: 4441 Collins Ave, Miami Beach, FL 33140
Nikki Beach
"Best Club For A Night of Dancing and Eating"
This nightclub in South Beach is not as popular as the other clubs on this list. However, that makes Nikki Beach such a unique and exclusive spot. The club is home to one of the award-winning restaurants, and the beach has been dubbed the Sexiest Place on Earth. When it comes to drinks, you can have a beer for $10 or pick a bottle starting at $300 at one of the best clubs in Miami.
But apart from the gastronomical and sensual delight, the crowd here is eclectic. You will often rub shoulders with VIPs who frequent this fancy nightclub. Besides, you can indulge in VIP treatment with an on-site valet and intimate indoor Space.
The dress code here is casual, and swimwear is the most preferred option. Nikki Beach is open from Thursdays to Sundays with different timings. If you are curious about the music, expect loads of house and electronic music. This club in Miami also hosts events with famous DJs bringing their top playlists.
Address: 1 Ocean Dr, Miami Beach, FL 33139
El Patio Wynwood
"Best Club For Old-School Music Lovers"
The pretty cool outdoor bar is always an intriguing sight for first-time visitors. El Patio Wynwood, which started as a bar, is now distinguished and one of Miami's best clubs. Almost everything in this club displays Latin-Colombian influence, from decor to music. Some of the furniture at El Patio was brought from Colombia.
A distinct feature of the El Patio Wynwood is its music. This is the place to be if you are in the mood for some old-school reggae, Latin, and electro or a fusion of all these genres. The club shines brightest and is loudest on weekends. The daytime party on Sundays is excellent as well.
Another reason why El Patio Wynwood is very popular among the locals is that it offers one of the best happy hours. So grab a beer for $1 and $ 4 for a cocktail in the neighborhood of Wynwood.
Address: 167 NW 23rd St, Miami, FL 33127
Mynt Lounge Miami
"Luxurious Club With Famous Faces"
This is a nightclub and a bar, which is known for attracting celebrities. If you walk into this bar, there's a pretty good chance that you might bump into one of your favorite celebrities. However, the door policy here is pretty stringent, so a perfect decent dress is a priority.
Mynt Lounge's decor is a perfect example of modern luxurious style. With lots of red velvet ropes, bright strobe lights hanging from the ceiling, high techLED fixtures, awesome people, and great music, an unforgettable nightclub experience is guaranteed. There is also a series of events that take place throughout the weekends. So check out their event calendar is recommended if you plan to visit.
The music genre at Mynt is EDM, and star DJs grace the party occasionally. Drop by to have a spectacular club experience that you will remember for a long time.
Address: 1921 Collins Ave, Miami Beach, FL 33139
Cameo Nightclub
"Club with the Biggest Dance Floor"
Miami's iconic nightclub has been a hotspot for celebrities, visitors, and locals since the early 80s. Drake, Young Thug, DJ Khaled, and Young Jeezy are a few of the many stars at Cameo. When ranking the best hip hop clubs in Miami, Cameo earns one of the list's top spots.
One of Cameo's outstanding features is its gigantic dance floor, designed by Cal Fortis, a legendary club designer. The club has two beds, more than 40 VIP sections, and half a dozen full-service bars. Each floor has different DJs who spin the latest hip-hop, EDM, and Latin.
Cameo comes to life on Tuesdays, Fridays, and Saturdays. But the Saturday night hip-hop party grows wild and attracts many people.
Address: 1445 Washington Ave, Miami Beach, FL 33139
La Otra
"Best Club to Show-off Latin Moves"
If you want to spice up your night with Latin Dance Music, this club is where you need to be. Formerly known as the Sidebar Space, La Otra features cool chandeliers, fairy lights, candles, velvet couches, an outdoor patio, tropical plants, and disco balls hanging from the ceiling.
Nightclubs in Miami are getting increasingly competitive, and this club is a tough competitor. Here you can expect special nightclub events, happy hour specials, premium drinks, incredible live performances, and a fun-filled, friendly environment.
On Friday nights, patrons can avail of their extended happy hour discounts on drinks from 5-11 pm. And yes, if you're wondering what to wear, a chic party is in La Otra's dress code.
Address: 335 SW 8th St, Miami, FL 33130
Mr. Jones
"Classy Club Experience Without The Expense"
Everything about this club is classy – Its name, interior, performers, and location in Miami Beach. Mr. Jones has built its reputation in the area for consistently providing a great and memorable nightclub experience.
It has become the happening spot to get the taste of nightlife in Miami. If you are a partygoer worth your salt, you know exactly what to expect at the best clubs in Miami. You would see some of the big names at the DJ booth with local talents and dancers who perform regularly, and you do not have to put a dent in your wallet to have a good time. This means it is a nightclub with very reasonable pricing, which is another bonus for the club.
At Mr. Jones, the most played genres are hip-hop and house. Although this club operates several days a week, the real party happens on weekends.
Address: 320 Lincoln Rd, Miami Beach, FL 33139
Blue Martini Brickell
"Best Club For Private Events"
Blue Martini Brickell is wrapping up the list of the best clubs in Miami. This club is famous for many reasons. The live performances from top artists are as epic as their cocktail menu—besides, Blue hosts many private events, from bachelorettes to karaoke and everything in between.
The happy hour at Blue Martini is also trendy among the patrons. It is between 2 and 8 pm every Tuesday to Friday. Revelers who love to dance can take the stage at Blue. But opt for the Blue's VIP lounge if you would rather party privately with your entourage. 
Pro tip: If you are a local around this fantastic club in Miami, enjoy 50% on Local Mondays.
Blue Martini Brickell is pretty casual when it comes to party attire. According to the events, the music at this club is a mix of several genres.
Address: 900 S Miami Ave #250, Miami, FL 33130