Are you planning to spend your next vacation in Miami? It would be best if you tasted the unique cuisine of this beautiful city. You will be overwhelmed by the taste of the city of nightclubs and luxury lifestyle. I bet the restaurants, and their menu will impress you with their culinary experiences. Here is a list of the entire most expensive restaurants in Miami. Please take a quick rundown on the list and check out what's they serve best to the fancy dinners.

Palme d'Or
The incredible surrounding of this high-end french restaurant will leave you stunned. It is built inside The Biltmore Hotel's lobby and surrounded by the hotel's historic swimming pool. The 1920s look inspires the dining room set. It will take diners to the golden age of luxury, where you can enjoy the taste of French cuisine. The kitchen is ruled by the nominee of rising star Chef Gregory Pugin and James Beard. Diners can enjoy the ni-course menu styled by the Pugin. Their la carte menu and impressive background have made it the finest dining destination in Miami. Take your love for this beautiful dining destination. Enjoy the classy and romantic date in Palme d'Or.
RSVP to our exclusive Champagne Dinner in Palme d'Or featuring Moët & Chandon and Dom Pérignon with six champagne masterpieces and five unique creations prepared by Chef Pugin of May 30! https://bit.ly/2HJva9E

Posted by Biltmore Hotel Miami Coral Gables on Tuesday, May 15, 2018
Address: 1200 Anastasia Ave, Coral Gables, FL 33134
Bourbon Steak by Michael Mina
Love steaks!
This high-end French restaurant's incredible surroundings will leave Come to Bourbon Steak by Michael Mina, an American restaurant famous for classic steak recipes. You will not find the traditional steak recipes anywhere else in Miami like here. It serves hormone-free beef, lamb, pork, and all the organic dishes. Diners can also taste unique wines, local shellfish that are brought fresh from the locals. They have hand-crafted cocktails for all their guests.
Book a table online and get ready to experience the culinary culture of Miami. The dining settings are inspired and designed by the award-winning chef Mina. Come at least once to the Bourbon Steak when you are in Miami.
Address: 19999 W Country Club Dr, Aventura, FL 33180
Nobu Miami
Nobu Miami is one of the best places for all those who are coming to Miami first-time. Earlier, it was a coastal club location that was an ultra-trendy location. But, now it's near the beach that makes it a perfect dining location for travelers. The surprising fact is that it is a Japanese restaurant having a famous chef, Nobu Matsuhisa. So, undoubtedly guests are going to experience the best dining experience here.
The traditional lanterns, cherry blossom decor, and all the classic dishes of Japan have made it truly one of the best. Also, one of the most expensive restaurants in Miami that is worthy of trying. The menu has all the yummy dishes that will leave its taste in the diner's mind for years. All the local ingredients come directly from the farm that gives a fresh flavor to the food.
Address: 4525 Collins Ave, Miami Beach, FL 33140
Zuma
This Japanese restaurant has a little twist for the diners. The informal eating and drinking style, traditional yet modern Japanese cuisine, and fantastic ambiance make its best restaurants, unlike traditional Japanese dishes.
Zuma has something new but delicious for diners. Also, enjoy your evening and food from three kitchens from the restaurant- the robata grill, the sushi counter, and the central kitchen. To your surprise, people can enjoy private dining in its two unique spaces. The waterfront terrace is no doubt a perfect location to experience private dining.
Address: 270 Biscayne Blvd Way, Miami, FL 33131
NAOE
Experience the unique eating in this five-star Japanese restaurant. Chef Kevin Cory styles the menu for his diners that are different each night. So, every night, there is the best offer where they can enjoy a three-hour dining experience in Naoe. However, plan 3-4 days to have an exquisite dining feel. You can make a booking for two different time slots—either book at 6:30 PM. or 9:30 PM.
It is an eight-seat restaurant with a price fix menu that only Chef Kevin Cory features. It is expensive, of course, because it's five-star. It's worth coming. People all across Miami and the world are coming to this restaurant to taste the Chef styled dishes. So, don't forget to go here if you are in Miami for vacation.
Address: 661 Brickell Key Dr, Miami, FL 33131
Pao by Paul Qui
Among all the most expensive restaurants in Miami, this one is full of lavish decoration. You will not get the theme as it has anywhere in Miami.
The unicorn theme setting is everywhere in deep gold and red colors. It is an Asian restaurant that has a unique signature cocktail. You must try this one. Moreover, they have a great style of serving it in a fancy unicorn mug made of copper. However, you have to pay $ 25 to enjoy its signature cocktail. What else should you try? The Wagyu Carpaccio is a must-try dish at "Pao."
Address: 3201 Collins Ave, Miami Beach, FL 33140
Hakkasan
Like Japanese and Asian cuisine, you can also enjoy Chinese cuisine in Miami. Since its opening in 2009, this is a significant moment in Miami.
Hakkasan has set the bars for quality and standard in Miami. It is raising the bars of restaurants even more and popular among locals and in the visitors due to its excellent Cantonese cuisine. It offers a rich ambiance, fantastic wine, and fresh food to make your dining memorable. You can choose from the restaurant's sample signature dishes and select a light wine along with it. Talking about the decor, then the dining set will leave you stunned.
However, it can make your wallet empty, but it will give you a lifetime experience. Wild mushroom with noodles, stir-fried lobster, and jasmine tea with smoked ribs is some of the highlights of Hakkasan.
Address: 4441 Collins Ave, Miami Beach, FL 33140
Le Sirenuse Miami
Visit the Amalfi coast of Italy in Miami in the setting of "Le Sirenuse Miami." This treat hotel is where you will see the attractive and chic style of decor. Therefore it is the most OK hotel in the city that delivers some of the best Italian cuisines to the diner. It has set a unique and standard status among the most expensive restaurants in Miami. So, begin your evening with champagne in the "Le Sirenuse Miami. Enjoy the ocean view while dining with your loved ones here.
The Amalfi Coast traditions inspire all the dishes on the menu. This truly gives a loving dining experience to people to choose from a 10-course culinary menu. Chef Antonio Mermolia brings the seasonal taste right to your table.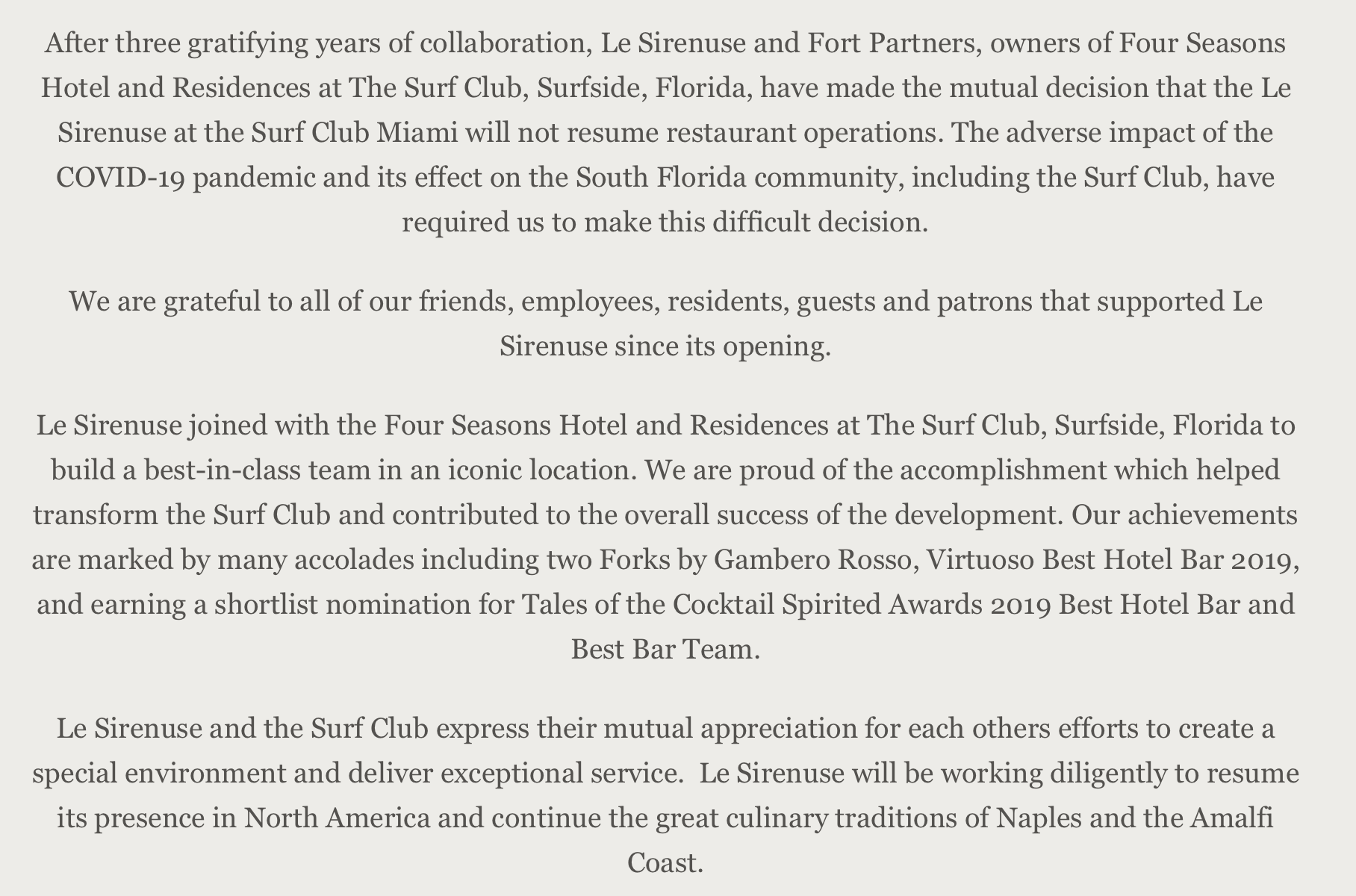 Courtesy of Le Sirenuse Miami
Address: 9011 Collins Ave, Surfside, FL 33154
Il Gabbiano
You will feel like you are in the streets of Italy when you are in "Il Gabbiano. This Italian restaurant setting will give you a strange feeling as the entire mood and setting have an Italian look. Staff manages everything well, let you experience the amazing and lovely food. For decades, "Il Gabbiano" is serving a memorable and fine-dining feel to its guests.
Have a Biscayne Bay from here that made it one of the favorite dining destinations among Miamians. It has a comprehensive list of wine selections for all the wine lovers across the city. You can enjoy the taste of famous wines from Europe. Moreover, if you are looking for a romantic date in an Italian setting, come to "Il Gabbiano."
Address: 335 S Biscayne Blvd, Miami, FL 33131
Cipriani Downtown Miami
One of the finest and most expensive restaurants in Miami is "Cipriani Downtown. It has branches in other locations like Hong Kong, Las Vegas, Abu Dhabi, Moscow, and more. This Italian restaurant is set in a beautiful area around the Miami River to its south side. Therefore, diners can enjoy the view of Biscayne Bay that offers a panoramic view to its guests. This, thus, gives a natural setting with a waterfront location to the guests. Moreover, the restaurant is open seven days a week, which means you can enjoy it anytime you want. Luckily, you can enjoy the private events in Cipriani downtown.
For instance, try the dishes like new sashimi salmon, fresh sashimi beef with yuzuponzu sauce stirred in sesame oil. Tuna tataki salad, black cod, and deep-fried sole are also the cross dishes of Cipriani downtown.
Address: 465 Brickell Ave, Miami, FL 33131
Il Mulino Miami
An award-winning restaurant in Miami where you can have the memorable taste of Italian cuisine is "Il Mulino Miami." Surrounded by sunny isles beach, this is situated inside the aquiline resort. This luxury restaurant gives a complete feeling of Italy to the guests. Step inside it, and you will forget that you are in Miami. However, the dishes are not cheap, so ready to lose your wallet if you want to have Italy's real taste.
The environment is graceful and fancy, and the dishes are incredibly delicious. Spotless services and lavish décor wins every guest's heart. At the restaurant, the old-style Italian tradition is preserved in the services. You can enjoy starters like fried crispy zucchini, Parmigianino Reggiano cheese, salami slices, and more. Appetizers are delicious, and desserts uniquely are the mouth-watering flavor. Not only the ambiance is good but also the staff and waiters are accommodating. Everyone who comes to Miami and wants to experience the traditional taste of Italy should go here.
Address: 17875 Collins Ave, Sunny Isles Beach, FL 33160
La Mar by Gaston Acurio
It is a South American restaurant in a beautiful location that brings authentic taste to the diners. Here you can pick from different culinary styles like traditional seafood cebiche, Asian-Peruvian fusion, and Novo-Andean. It offers 15 unique dishes to the guests with red onions, cilantro, fluke, Nikkei with tuna, and more. Your culinary journey at "La Mar by Gaston Acurio will not end here.
Get ready to taste some of the unique dishes and also street food varieties with a stimulating effect. You will love the most expensive restaurants in Miami. If coming here on Sundays, then you will get a chance to pick from the Peruvian-inspired menu. Don't forget to get a taste of signature brunch cocktails and sweets from their costly selections.
Address: 500 Brickell Key Dr, Miami, FL 33131
Los Fuegos by Francis Mallmann
Los Fuegos is in the heart of Miami Beach. It would be best if you came here to taste the dishes by the celebrity chef Francis Mallmann. He is trained in serving traditional open-fire cooking. You will not get a restaurant like this in an urban environment. It has an extraordinary kitchen specially designed according to the need of a chef. You can come here and enjoy dinner, lunch, and even breakfast. However, to get a comprehensive experience of food comes on Sunday.
Address: 3201 Collins Ave, Miami Beach, FL 33140
Matador Room
Want to enjoy the local seasonal ingredients and flavors of South America, Spain, and the Caribbean? You will enjoy Latin American cuisine only here at "Matador Room." This bistro will remind you of your old-school and supper club. The oval dining room gives it a different look than another eating piece in Miami. However, this eatery may have an old-fashioned setting, but you will love its menu.
Chef Jean-Georges Vongerichten serves you the cuisines from Latin America, Spain, the Caribbean, and South America. The menu is set in such a way that diners experience different dishes every day.
Address: 2901 Collins Ave, Miami Beach, FL 33140
Nusr-Et Steakhouse
Dine at the celebrity style restaurant will let you taste every bite of meat served by the master butcher, Nusr-Et, aka Salt Bae. This Turkish hospitality serves you highly personal delight and gives you ample seafood options. It is a must-come place for seafood lovers.
Luckily, you get a chance to choose the meat of your choice. The chef will serve you nice, juicy, and smoky meat. It is a 200 seat dining room, so you don't have to wait for dining. Moreover, the design of the setting enriches your dining experience at "Nusr-Et Steakhouse".
Address: 999 Brickell Ave, Miami, FL 33131
Prime 112
This traditional steakhouse has a modern touch with a contemporary menu. People love to come here due to the sleek and superb design and its services. Also, the music in the background makes the dining experience much better than any other place. The customary dark leathers, sexy decor, and low lighting favor the lively atmosphere. It will uplift your senses from its surroundings and the smell of delicious food.
Address: 112 Ocean Dr, Miami Beach, FL 33139
The Bazaar by José Andrés
Culinary is an art, and Chef Jose Andres knows it well. Thus, he always tries to bring innovative dishes. You will see both artful and playful dishes with a mix of culinary physics and high-quality ingredients. However, meat is costly here, but it's worth it as well.
Try his signature dish tapas-style plate that is loaded with tons of flavors. Oysters taste tremendous, so don't forget to order them. Also, the signature cones are the specialty of this Spanish restaurant that comes with edible gold flakes and uni or caviar.
Address: 1701 Collins Ave #100, Miami Beach, FL 33139
elcielo By Juan Manuel Barrientos
The bold flavors that you will get here are not available anywhere else in Miami. The Chef uses a molecular gastronomy technique to present something unique from fresh ingredients every time to your plate. The wooden tables, open kitchen, and chairs wrapped in white leather give it a rustic and modern accent.
Enjoy the stunning view of the Miami River from your seat and taste out of the box dishes at your plate. Elcielo is known for drinks, celebrity chefs, and outdoor seating. So, book your table via online reservations and experience food prepared from this new technique. I bet you have never tasted it yet in Miami, so begin your experience with Elcielo.
Address: 31 SE 5th St, Miami, FL 33131
Barton G
Barton G knows very well how to satisfy their guest's appetites and raise their senses. It has award-winning chefs, and a unique menu set it apart from the regular dining. This American restaurant has beautiful orchid walls, comfort food, and artistic finishes. It makes your dining more than fun and memorable.
You can even throw private parties and date nights here as well. The outdoor terrace, VIP rooms, exclusive lounge, and full bar setting are suitable for organizing private events and parties of any size. Entertain your guests in Barton G with its upscale dining setting and menu and make it another memorable day for them.
Address: 1427 West Ave, Miami Beach, FL 33139
Jaya at The Setai
The restaurant is inspired by Asian hospitality. Thus, it is named Jaya. In Sanskrit, it means victory. The Asian style restaurant brings dishes from various countries of Asia like Japan, India, China, Thailand, and Korea. The chef uses different culinary techniques to present your flavors of Asia.
The longtime favorites of Setai are tandoor sea bass, pecking duck, Indian curries, Nan bread, and dim sums. Come to this hottest new restaurant in Miami and explore the flavors of Asia.
Address: 2001 Collins Ave, Miami Beach, FL 33139
Conclusion
All these top and most expensive restaurants in Miami are the ultimate destinations for food lovers. If you wish to enjoy a classic style dining in Miami, then comes to these top restaurants. They are expensive, but the food is worth, and the surrounding pacifies your dining experience. You will get all the world flavors like Asian, Chinese, Japanese, Italian, and lots more.
Don't think more about where to go for food when you are in Miami. Enjoy this luxurious spacing that brings the taste from all over the world to Miami's most expensive restaurants.